News & Articles


LOST - turning into soap opera?

"Lost" is the newest TV Show which became a mania for many people all over the world. It even made me, a person who barely watches TV Shows, stay in front of the TV night and day watching and waiting for the next episode.


Reality TV - How Low Can It Go?
There's a book written by Stephen King called The Running Man He wrote the book in 1982, and in 1987 it was made into a rather good film starring Arnold Schwarzenegger. I remember the first time I watched that film I thought it was an interesting piece of science fiction. The thought of people being hunted down and eliminated/killed for national TV was very unique, and a bit far fetched.


ABC Reality Show Winner Stars In New HGTV Makeover Show
Hollywood, CA. (For Immediate Release -- April, 2006) - When bad designs happen to good people, HGTV is there to turn things around in Takeover My Makeover, an entertaining new weekly series premiering on Saturday, May 6 at 7 p.m. ET/PT.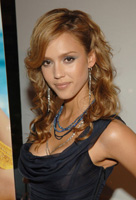 Moviegoers will Dream of Alba
Jessica Alba lands the role of Jeannie the genie in the upcoming film version of the 1960s camp classic I Dream of Jeannie.
Wednesday, Aug 24, 2005 at 18:00PM
The Internet is alive with speculation about the fate of his Alias character. Will the power of the Web save Agent Vaughan, or is it all just a publicity stunt?
Wednesday, Aug 24, 2005 at 17:15PM
Mary Tyler Moore on That '70s Show
Legendary TV star Mary Tyler Moore will return to her original Studio City soundstage this fall when she guest-stars on three episodes of That '70s Show.
Wednesday, Aug 24, 2005 at 16:50PM
Maria Menounos gets two new jobs
Maria Menounos of Entertainment Tonight is seeking greener pastures as a correspondent for both Access Hollywood and The Today Show.
Wednesday, Aug 24, 2005 at 10:28AM