Fans fight for Michael Vartan

August 24, 2005 at 05:15:00 PM
The Internet is alive with speculation about the fate of his Alias character. Will the power of the Web save Agent Vaughan, or is it all just a publicity stunt?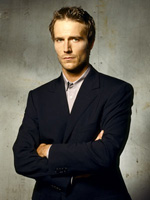 Will the Web save Agent Vaughan?
Diehard fans of Alias star Michael Vartan have been tapping away at their keyboards in an effort to save his character's life. When it was leaked in the New York Post that Vartan had filmed his last day on the set of the hit spy show, fans took to their computers to raise the rally cry against killing his character. Vartan's character, Michael Vaughan, plays the lover and fellow CIA operative of Alias herself, Sydney Bristow (played by Jennifer Garner).
Although ABC has not confirmed that his character is being killed off in the upcoming season, in the season-ending cliff-hanger for the show, Vaughan and Sydney were involved in a deadly looking car accident just as Vaughan was about to reveal a huge secret to Sydney.
In real-life, Garner is pregnant with the baby of her new husband, actor Ben Affleck, and Alias writers say they will involve her pregnancy in the show's storyline. Previous to her relationship with Affleck, Garner was romantically involved with Vartan. On-set tensions have been rumored between Vartan and Garner, leading worried fans to fear that he's being written out of the show to alleviate these personal issues.
While a Web site has sprung up to let fans express their dismay at the possibility of Vartan's character being killed (www.mvcampaign.com), there has been some speculation that the leak was just a publicity stunt meant to generate buzz for the show.
Alias returns for it's fifth season this Fall.