Moviegoers will Dream of Alba
By Colin Mahan | more stories by this author
August 24, 2005 at 06:00:00 PM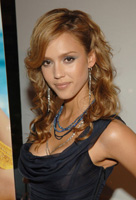 Jessica Alba lands the role of Jeannie the genie in the upcoming film version of the 1960s camp classic I Dream of Jeannie.
Line up to rub her bottle.

Line up to rub her bottle.
Former Dark Angel Jessica Alba, recently seen in the films Sin City and Fantastic Four, has been cast in the titular role in the upcoming TV-to-movie conversion I Dream of Jeannie. The actress beat out several other "It girl" actresses, including Kate Hudson, Alicia Silverstone, and Lindsay Lohan. The original role was played by Barbara Eden.
I Dream of Jeannie premiered in 1965 and ran for five seasons. It told the story of astronaut Anthony Nelson, played by future Dallas star Larry Hagman, who stumbles upon a genie's bottle after his rocket crash-lands on a desert island. After he rubs the bottle, a genie named Jeannie pops out and attempts to fulfill her new master's every wish. Unfortunately for Nelson, Jeannie's wish fulfillment only serves to mess up his life in comedic ways!
Former Saturday Night Live comedian Jimmy Fallon stars as Major Nelson. The film will be directed by Gurinder Chadha, who directed the international hit Bend It Like Beckham. Jeannie is set for a 2006 release and is another in a continuous stream of movies based on television shows.